The Official Website of the 14th Armored Division
Home of the "Liberators"
Website by: Jim Lankford / Mikel Shilling
During the darkest days of WWII, it was the people of our great nation, the mechanics, clerks, industrialists, lawyers, bankers, teachers, doctors, students, these and millions like them who answered the call to defend the American way of life. Among them were the men of the 14th Armored Division. This site is dedicated to them.
Campaigns of the 14th Armored Division: Ardennes-Alsace, Rhineland and Central Europe
Please choose your area of interest from the menu above or for additional information about the 14th Armored Division there are also links below.
Fundraising / 'Official' 14th AD items:
Liberator T-Shirt
Liberator Mug
If you have a few spare dollars please consider donating to
help cover the costs of keeping this website online, thank you!
Or to mail a check:


Any amount is greatly appreciated, thank you!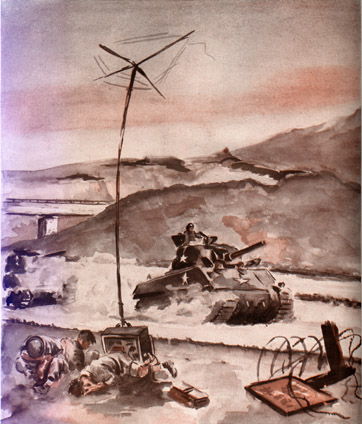 In 133 days of combat, the 14th Armored Division.....

Liberated or captured 1,000 cities, towns and villages, captured 64,000 German soldiers and airmen, liberated 200,000 Allied prisoners of war, and freed 250,000 Jews and other "displaced persons" from German captivity.

The Division also destroyed or captured .....

500 German tanks, 100 self-propelled guns, 500 artillery weapons, 400 anti-aircraft guns, 2,000 railroad cars, 100 locomotives, 200 factories, 50,000 tons of munitions, and 400 enemy aircraft.